Início do conteúdo da página
FREE ONLINE PORTUGUESE COURSES FOR FOREIGNERS ON LANGUAGE WITHOUT BORDERS (ANDIFES-ISF)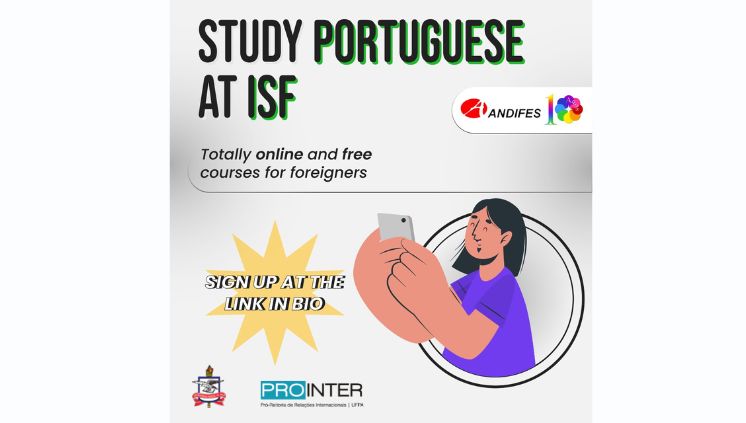 The Andifes-IsF Network is offering Portuguese for Foreigners (Portuguese as a Second Language) courses for the entire academic community (students, professors and administrative staff) of the institutions accredited to the Andifes-IsF Network, as well as for any interested foreigners.
There are more than 450 vacancies in total. Each class will have 25 participants, plus 10 additional spots on the waiting list.
The courses are free and offered in a collaborative way by Portuguese language specialists accredited to the Andifes-IsF Network. The Network continues to be the first to offer language courses openly, free of charge and with the quality that it has always conveyed in its courses. Classes will be held in an online format, synchronously, and can last from 1 month (16h courses) to 2 months (32h) in two weekly meetings of 2 hours each or in a single weekly meeting of 4 hours (with a break). The indicated times are Brasília time (BRT Time Zone). Each individual can enroll in only one course.
All details on course topics, schedules, eligibility are described in the public notice available on the Andifes website: https://www.andifes.org.br/wp-content/uploads/2022/09/EDITAL-OFERTA-COLETIVA_2SEM2022-PORTUGUES-FINAL_revisado-2.pdf
The registration link is: https://bit.ly/INSCRICAO_ISFPLE_OfertaColetiva_2_2022
Applications began on October 3 (Monday) at noon and will close on October 17 (Monday) at noon.
Fim do conteúdo da página